よーし。
once again, writing an entry about things that happened too long ago for me to remember properly Dx
editors note: holy shit this is incoherent proceed with caution.
first of all, i've dyed my hair 8D
on the way to namba~☆ let's go GAZETTE!
HETERODOXY ZEPP NAMBA 7/24
heterodoxy first day ♥
mynameisdish
,
jiroko
, and
oddesy
all lined up early to be in the front of the goods line! i didn't plan on getting much from the goods this time actually.. just the pouch, towel and case, and the shop bag to carry it all in. i am IN LOVE with the pouch and the fact that it still smells like pool toys ♥ ahhh plastic
um
our numbers werent the best, so we had a lot of time to just hang around! which means time for purikura--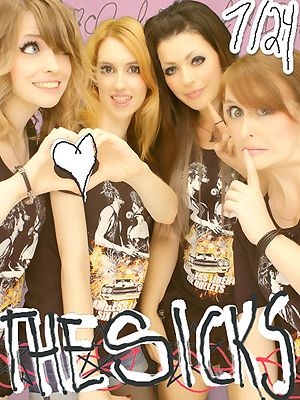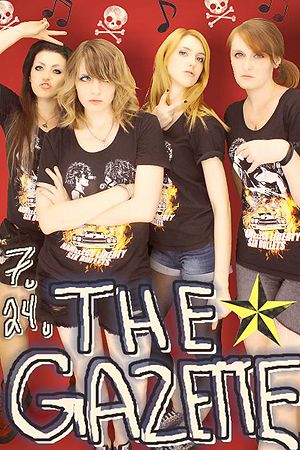 i love you girls ♥ with our matchyness 8D
we meandered over to the venue, and got a pretty good spot near the back which was raised so we could see everyone! i was really happy not to be in front, actually, so we could all be together. since im leaving so soon, it's our last concert to all be together, probably. :c its definitely a week of lasts..
okay! okay!
SETLIST
1.FILTH IN THE BEAUTY
2.VORTEX
3.COCKROACH
4.赤いワンピース
5.Psychedelic Heroine
6.
十四歳のナイフ
**
7.
THE INVISIBLE WALL
****
8.CALM ENVY
9.痴情
10.BEFORE I DECAY
11.CLEVER MONKEY
12.VERMIN
13.HEADACHE MAN
14.Maggots
15.DISCHARGE
—————————–
16.Ride with the ROCKERS
17.Nausea & Shudder
18.
The $ocial Riot Machine$
**
19.HYENA
20.SLUDGY CULT
21.LINDA~candy dive pinky heaven~
—————————–
22.関東土下座組合
AIIIEEEEEEE THE INVISIBLE WALL <333333 omg, what a surprise!! that was so awesome and cool and flawless and oh my god ;____; and nausea and shudder too rly-- i love these songs so much-- it was really fun. there was a bunch of
chuugakusei in sailor fuku
behind us who were really crazy-- and during dogeza we tried to get down and dogeza with them 8D but the crowd wasn't too kind to the dogeza and we didn't have room so we eventually got up but DAMN DID WE TRY. they were fantastic. lol. man uruha is so beautiful with his blonde and the band was cute with their sTUPID WATER GUNS. they seriously had these toy water guns and they would shoot each other and shoot the crowd with them.. GOD ♥ aoi still has pink hair as ever, reita is all blonde,
KAI LOOKS LIKE A SEXY SEXY CAVEMAN
..... and ruki fucking has black and blonde ombre hair. honey x( i had a lot of fun this day ;u;
i really understood that FC gazette and big hall gazette are totally different creatures.
HETERODOXY ZEPP NAMBA 7/25
i got in the goods line early once again because i realized i HAD to buy the raglan tee. i wasn't going to buy any shirt, until i realized that the raglan had the lyrics for TOMORROW NEVER DIES on the back..
fucking ruki. you know how to get me. :(
but.. unlike on the 24th, my ticket numbers were... good.
they were too good. i started to panic. lol
this time, i went with Nobu and
mynameisdish
! nobu and i got in first and i managed to save a spot in front for sarah. thank god. ;_; this wouldn't have been even half as magical if u werent there bb ;;
WE WERE SO CLOSE!!!! like, a couple crushed girls before us close. ruki was mere feet from us. i cant even fucking explain how DISORIENTING IT IS TO BE BREATHING THE SAME AIR AS RUKI. holy shit how does this even happen??? i feel like gazette is too big to be able to see every drop of sweat but holy shit. i can't believe it. ;A; i have such shitty luck with everyone but maybe not gazette ;_; and this day was further made unbelievable by...
SETLIST
01.VORTEX
02.CLEVER MONKEY
03.VERMIN
04.AGONY
05.
Sugar Pain
******* (( ;°Д°))
06.
赫い鼓動
******** (((( ;;°Д°))))
07.ガンジスに赤い薔薇
08.
白き憂鬱
******* ♥
09.
紅蓮
** ♥
10.HYENA
11.SLUDGY CULT
12.COCKROACH
13.DISCHARGE
14.HEADACHE MAN
15.FILTH IN THE BEAUTY
EN1
01.Ride with the ROCKERS
02.赤いワンピース
03.「春ニ散リケリ、身ハ枯レルデゴザイマス。」
04.The $ocial Riot Machine$
05.
Ruder
********* (( ;°Д°))
06.LINDA ~candydive pinky heaven~
EN2
01.関東土下座組合
vortex, clever monkey, vermin.. no surprises thus far (i LOVE clever monkey so much, tho!!! reita looks so absolutely sexy as fuck during this song.. all crouched down and swayin w dat bass UNF) so i thought all was normal.. that is, until, after VERMIN, suddenly Ruki turned about and RAN offstage.
reita and aoi looked confused, and kinda chatted, fiddled with their instruments, knowing just about as much as we did in regards to what the fuck ruki was doing. after a while, though, staff waved reita and aoi off and.. the lights turned back on!! D:
now we were getting really nervous. the announcer came through the speakers and told us to please wait until further notice. WHAT Dx even the girls in front of us turned around and wondered what the fuck was going on. did something happen to ruki's throat?
after more than 10 minutes of getting even more and more worried, suddenly, everyone came back onstage. ruki came back in front of us with his little fucking sideways ruki grin and said sorry.
THAT WAS IT. SORRY. and then we went into AGONY 8D OH SHIT IT WAAAS DONE TOO MAACH
the gazette is really incredible. from the moment the music started again, all my bad feelings went away, and by the end of the show, i didn't even REMEMBER such a weird thing happened. it wasn't just forgiven, it was totally forgotten. i just had a crazy crazy happiness and good memories ♥
but how could i even remember something bad when fucking this started.... ;A; when sugar pain started, holy shit.. of course you have to go look over at aoi who is fucKING BEING SO HOT OVER THERE WITH HIS RIFFS. up on his box with his body bent backwards and ohmg oh holy shit. i kinda felt that aoi is really... quiet over there this tour and i worried, im always worried about fucking aoi god dammit but this is serious imo, but jfc is he still hot. BE HAPPY AOI PLEASE WE LOVE YOU. and then suddenly, akai kodou?!?! ARE YOU KIDDING ME??! 8DDD ive been whining about wanting to hear this song for absolutely *EVER* and then it just comes out OF NOWHERE 「水の無い海の魚。。。」 ♥ ♥ ive been wanting to hear this song live ever since i watched the RCE live and it was one of my favorite songs of the dvd.
GOD OF DEATH
IS CAAALLLLINNNGGGG MMEEEEEEEEhh 8D
heterodoxy was my first time seeing gazette not in a huge hall just like that. i think until now, it hadn't even occured to me that you could still get so close to them. at zepp, even the space between the front bar and the stage is so small..
sugar pain -> akai kodou i could have just died from the sexy tbh aajekljglrkg ;____; i love ruki's.. movements. i want to call it dancing but its not. eerie twitching he does so well ♥
sometimes, the slow songs are too slow.. like last night before's Calm Envy.. i wasn't here for that.. but that feeling didn't happen either, with Ganges into OMG SHIROKI YUUTSU. one of my favorite slower gazette songs ;A; but i love gazette's ballads for some reason.. but i love LOVE that song. and then Guren.. how perfect T______T
i really love osaka and the crowd is so awesome here. i could really see the difference later. there were two girls in front of us who were really.. good crowd partners ♥ sarah and i never got separated, and we watched in horror as the girl in front of us's extensions got tangled up in sweat/our fingers until it looked like a rats nest that had to be cut out :s but i tried to take care of her hair when i could lmao. lets be fair my extensions looked worse and theyre soaking in conditioner right now, with some of the clips broken COMPLETELY OFF. indeed.
the encore was fucking AWESOME ♥ ♥ got our furi on with akai one piece and haru ni chirikeri, and fucking $OCIAL RIOT MACHINE$. forEVER one of my favorite songs, im so glad they brought it back for this tour ♥ aaaaAAAAH RIOT RIOT RIOT RIOT 8D but.. then suddenly..
I AM..

I AM ...

RUUUUDDDEEEERRRRR 8DDDDDD
AHHHHHHHHH CHUCHUCHURU CHUCHUCHU RANRAN--- I FUCKING LOVE RUDDDEEERRRR omg we went CRAZY ♥ ♥ ♥ I LOVE YOU PUNK GAZETTE I LOVE YOU I LOVE YOU YOU ARE SO DEAR TO MY HEART CHUCHUCHURUCHUCHUCHU FUCK aaAmmmmmmmmmmmmmm my DREAMS
one of my favorite moments in any live ever tho happened during this show's kantou-- they brought the water guns back out, and the stage divers were passing overhead as usual-- and at once point, ruki and uruha were on the front box, and ruki had the water gun. uruha would yell and point at oncoming crowd surfers and ruki would be like AH D8 8D and shoot at them xD i felt like i could see it through their eyes and it was exactly like an arcade shooting game with targets coming at you xDD fuck.
i never, ever ever would have thought gazette was so.. fun ;_; they would dump full water bottles over crowd surfer girl's heads too while they couldnt escape. and ruki was ALL SMILES almost the entire show. i've never seen anything like it! his teeth are.. his teeth are so perfectly straight even though his smile is crooked. his smile is so gorgeous and i dont know why he doesnt smile all the time ;A; damn.
this show was incredible. i think i'll never forget it.
INDISCRIMINATE KILLING SHOW 12012/SEL'M/DEATHGAZE 7/30
monday the 30th started my nagoya adventure. and it didn't start off well Dx.
i overslept a WHOLE HOUR and almost missed my bus! i got there just in time, after running. i didn't have time to do my hair or makeup so i had a totally naked sweaty face and crazy frizzy hair :( and of course when i enter the bus terminal i'm greeted to a ruki cosplayer just staring at my shame. CARRY ON RUKI. NOTHING TO SEE HERE.
i did my make up on the bus and listened to 12012's album on repeat. i must have slept a little bit, too. nagoya is about 4 hours from osaka, and i don't remember too much of the time.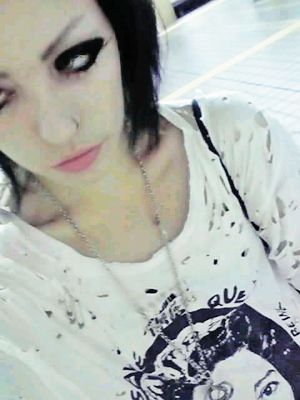 when i got to nagoya, i did my hair in a department store bathroom along with a gazeko of the day, and then i kind of had nothing to do until 12012 x( i just hung around until i could check into my hostel, and then came back to the livehouse.
the show was in nagoya ell.fits all, which is.. super TINY. holy shit. i went in there, bought some 12012 goods, and waited. Sel'm was first so i backed off my spot- they were really good but the bangya were crazy ♥ i really enjoyed the set they put on, but i've never listened to them before, so i don't know what they played. but the singer is really charismatic even though it seems like the rest of the band got beat with the ugly. damn.
sel'm left the stage, and the bangya switched. 12012 girls at the front now. (including the coolest girl ive ever seen: super, super hot VK girl with 12012 shaved into the side of her hair!!!)
now my heart is in my throat. lol.
ive fucking loved 12012 for so god damn long. at least since 2004, and i've never ever gotten a chance to see them until that moment and it was hitting me. i can remember the moment i first saw their fucking photo and heard their music guys. 12012. 12012 my 12012 babbbIIIEESSSSS
the lights went off once more and MADARA began pulsing through the speakers. oh my god. oh my god. its really happeninggg ;ooooo;
tooru-chan came out first, settling behind his drums, and then tomo, with his long, long volumous victoria's secret hair of extensions and beauty. (*0*) and then aki-chan came out grinning and playing with us. and then
guys
guysguysguysguysguysguysguysguysguysguys
guysguysguysguysguysguysguysguysguysguys
guysguysguysguysguysguysguysguysguysguys
guysguysguysguysguysguysguysguysguysguys
guysguysguysguysguysguysguysguysguysguys
guysguysguysguysguysguysguysguysguysguys
guysguysguysguysguysguysguysguysguysguys
guysguysguysguysguysguysguysguys
WATARU.
OH MY GOD OH YMGJSKLDGJSOEGSLRGKJLSRJGLSJG WATARU fucking holy shit oh my god. he came out in a leather jacket and weird dropcrotch pants that didn't flatter him AT ALL and fucK HE IS SO PERFECT AND BETTER THAN I COULD HAVE EVER IMAGINED GUYS GUYS. his hair was shaved off on his right side and his hair hung over his eye on the other side. he had white-out contacts and dark makeup and he WAS SO HOT. HE WAS SO HOT, I WAS SO SO FUCKING WORRIED BUT HE WAS SO PERFECT. he looks a lot different than he used to, his look is much darker now and i feel like i could trust him with my life
EVEN LESS
. oh my god compared to everyone else even on stage his body is so short and stocky and ffFFFF JAPANESE ROBERT PATTINSON AND RUKI
is anyone even still reading this
is even anyone here
has anyone really been far even as decided to use even go want to do look more like
and there they go..
SET LIST
-斑-
BAAL-ZEBUL
my room agony-reprise-
HIDE&SEEK
薄紅と雨
Hallelujah
蛇舌
in favor of...?
Venom
SUICIDE
(i could swear to god they played JAZETSU somewhere in there too but me and this ONE. OTHER. GIRL writing about nagoya 12012 can't recall correctly so bear with us.. as if you care ;_;..)]
OH MY GOD. they sounded so so so so so amazing and holy god. wataru's voice my life jfc. i love love LOVE LOVE the new album. i love it. but. DO YOU SEE THE OLD SONGS OH MY GOD.
"WHY... ARE YOU SO UGLY?!" 8DDDDDDDDDDDDDDDDDDDDD
OFFSKDLGJLSKJHGLD THIS this song is so so so so fucking hisashiburi for me holy shit the memories.. the beautiful memories.. i remember watching this pv with
red_audrey
in the dark and literally fearing for my life. NOTHING HAS CHANGED BETWEEN US, WATARU. NOTHING ♥ ♥ ♥ they intro'd it with the breathing and everything. oh. ohH
baal-zebul and suicide were the best ♥ i mentioned on the first listen of the new album that baal-zebul would be a crazy awesome amazing flawfree live song and IT WAS. and damn, i think i like the remake of my room agony way more than i love my room agony and i love oh
i couldn't see tooru but tomo was super kakkoii and aki was super cute and engaged the crowd a lot, which wataru didn't until the end and he came up close to the edge of the stage and headbanged with us, rubbed his croTch and gave us a good nod of approval 8D YAY.
more information about wataru no one wants to know: oh my god sweat
no seriously i have never seen another human being sweat like that in all my history of living it was like there was a faucet hidden in his hair and it was just ON man his jacket was fucking WET with sweat and it was a never ending stream of oh god so much sweat so wet so weT
no man. their performance was soo so everything i've ever wanted. they left too early :( i would love to see 12012's oneman.. but they dont even have a scheduled one yet x( im so happy i could see them once. finally finally finally i could do it. i've been angry since 2006 or whenever they were SO CRUELLY NEAR BUT STILL SO FAR. i survived seeing wataru irl. good/bad
so after 12012 walked off, i grabbed my stuff and went to the back like a good bangya. i was going to buy the cd, until i realized they were selling RIDICULOUSLY OVERPRICED CHEKI and i literally gave them the rest of the money in my purse for two and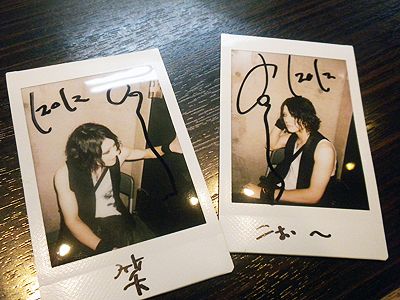 GOD FUCKING
GOD DAMMIT TOORUCHAN. YOURE NOT EVEN FUCKING LOOKING AT THE CAMERA YOU KAWAII LITTLE SHIT I SHOULD STRANGLE YOU DEAD OH MY GOD
god dammit i really have the worst luck with pulling lotto stickers/cheki. i need someone else to do it for me every time x( calledplan, angelo, now 12012.. fucking a. I LOVE YOU TOORU BUT FUCK. lol such is my life. its okay, its okay, its okay lol
deathgaze came on then, and really, EVERYONE there was there for deathgaze. theyr quite good, lol but i dont know a thing about them so i sat in back and hung out and enjoyed myself ♥
when they were done, i went back to my hostel to sleep for the next long day ahead!!
HETERODOXY ZEPP NAGOYA 7/31
i met up with
mynameisdish
in the morning in nagoya station ♥ we had the whole day- or so we thought- so we hung out and had coffee in the station and played count-the-gazekos, until we decided to head off and find some VK stores. WERE IN FUCKING NAGOYA, RIGHT, THERE SHOULD BE SOME FUCKING EPIC OLD SHIT HERE. we had amazing discussions lmao bangya creepypasta and the pilgrimage of bangya to kuroyume's first livehouse every 20 years.. what.. ♥
we found the nagoya like an edison (which is a lynch shrine) and another little shop full of old stuff. but we didn't buy anything at either place though we stayed in the second place a lonnggg time. there wasn't anything there we have never seen before which was kind of disappointing!! after that, we sat in front of some shitty seedy CD shop and tiny fucking shady live house deal, using the random outdoor outlet to charge phone. people kept coming out from the shops for a smoke break (really really sexy long haired dirty heroin chic guys ♥) and they didn't give a shit we were stealing electricity lol.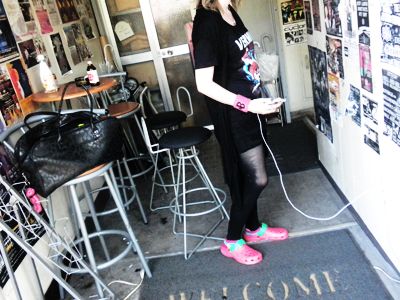 we were here forever lol. i really came to love nagoya.
but we stayed in this area too long-- x( it became really evident that we NEED AN ADULT because we arent getting the job done. we looked at the time and started to panic! we had to fucking get to zepp WE HAD TO TAKE A FUCKING TAXI! we were free all day and we still rushed and took a taxi to the venue holy shit. but it worked out because the taxi was super cheap between us and i kind of felt like a celebrity/dirty whore getting ready/switching bags and shit in the back of the cab 8D
of course everything worked out, we got there, got a locker got inside with our stupidly good ticket number. this time we were directly, directly in front of ruki. oh shit.
SETLIST
1.VORTEX
2.Maggots
3.BEFORE I DECAY
4.SWALLOWTAIL ON THE DEATH VALLEY
5.Psychedelic Heroine
6.
生暖かい雨とざらついた情熱
***
7.
「剥離」
8.
THE INVISIBLE WALL
*** (剥離ー>T.I.W. かっこいい ♥)
9.痴情
10.紅蓮
11.HYENA
12.AGONY
13.VERMIN
14.HEADACHE MAN
15.Filth in the beauty
16.DISCHARGE
———————————–
17.Ride with the ROCKERS
18.赤いワンピース
19.春ニ散リケリ、身ハ枯レルデゴザイマス。
20.SLUDGY CULT
21.COCKROACH
22.LINDA ~candydive pinky heaven~
———————————–
23.関東土下座組合
oh my god is nagoya different than osaka... Dx
these people PUSHED. they were mean! but it was still SO FUN! ♥ there were no weird mishaps this time, but no extra extra omg omg omg songs ive never heard before and no water guns.. x( but we were closer than even last time i think because people were pushing so hard. like.. holy shit right in front of us rurun 8D and our section didnt get ignored like last time either xD we got plenty of water dumped on us this time but oh my god i think what stands out most this time was URUHA.
fucking. at once point uruha came over and paid a lot of attention to us. he just hung around with that ANGEL INHUMAN BEAUTY FLAWLESS FACE. his smile is seriously one of the most beautiful things ive ever seen .____. and HE SPIT WATER IN OUR FACES 8D oh god do i need to go to the clinic oh no.
we left that live and i looked so fucking crazy x( they really beat me up there lol. after gazette, we wandered around nagoya not knowing wtf to do. we had the whole night, because our bus was the next morning. we ended up hanging out in sakae the rest of the night, doing puri, drinking and karaoke! it was really a lot of fun. ;____;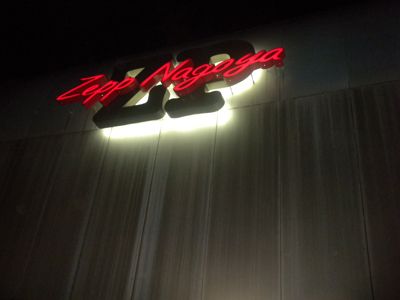 it didn't really hit me there but it did when i got home that this was really, really the end. the last time i would see the gazette. im really thankful.. not only to the gazette, for putting on these amazing fc shows for my last time which were all so good yet all so different, but also to my friends who i made this year that i could go with and really give the memories special meaning. i feel really lucky i could go to these last shows, and even see a different side of the band that i've seen multiple times before in this year. i think i've seen it all :') but my shows earlier this year were alone, alone.. it seems so strange i met some of you only this year. i don't know.
i just feel so lucky. for everything. thank you guys.
im going to miss the gazette. im going to fucking miss all of you. i have so, so much to remember.
i hope it isn't the last time.
thank you thank you thank you.
i'm so tired now.. its almost 3 am.. and i wish i was more awake to maybe articulate more, especially what i'm feeling now that's its all done, but i need sleep so bad that i feel sick. if i forgot anything amazing please tell me 8D if theres so many mistakes, dont be so mean to me! x(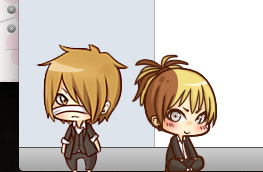 good night desktop mascots-- x)
good night lj ♥ chuchuchuru ♥